Si estás buscando la localización de las subastas de carros de Estados Unidos (USA) estás en el lugar adecuado. Por ley todas las subastas públicas de cada uno de los estados están registradas y pertenecen a la NAAA (National Auto Auction Asociation). Hemos utilizado este sistema de base de datos para mostraros todas y cada una de las subastas de carros en USA «activas» y oficiales.
Puede ser que no encuentres un estado en la lista, eso es porque ese estado no dispone de subasta pública registrada. A continuación encontrarás una lista detallada con todos los estados que actualmente tienen subastas de carros.
Listado de subastas de coches por estado:
Datos de subastas actualizadas semanalmente
¿Qué son las subastas públicas de Estados Unidos?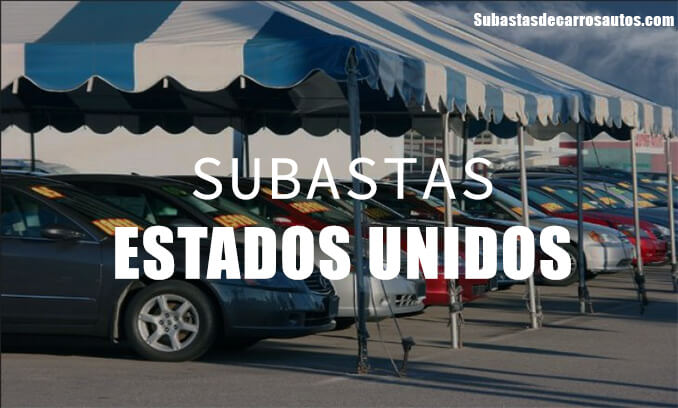 Una subasta pública se define como la venta de bienes tanto muebles como inmuebles. Se ofrecen a un precio bajo y conforme van pujando el monto aumenta, finalmente se la queda la última persona que puja. En el mundo de las subastas de autos el procedimiento es el mismo.
Las subastas que existen subastan todo tipo de cosas desde bienes inmuebles embargados a particulares, empresas, etc hasta objetos recogidos por abandono, decomisos, quiebras que han sido voluntarias por el propietario, etc.
Algunas otras páginas web como son la web de copart en español disponen de herramientas para buscar al detalle cualquier carro usado que haya sido puesto en venta mediante subasta tanto pública como privada.
Otro tipo son las subastas de autos de aseguradoras que ponen a la venta carros de los clientes que han tenido algún problema o por algún motivo han dejado de quererlos. Las aseguradoras se llevan una comisión por venta y los clientes la mayor parte.
Subastas de carros usados en Estados Unidos
Una de las principales ventajas de las subastas de autos usados es su precio. Normalmente al ser vehículos de segunda mano tienen un precio bastante inferior  al original. Salvo algunas excepciones ediciones limitadas o autos de colección, es una gran oportunidad para hacerte con un buen carro a mejor precio.
En algunos casos puedes llegar a encontrar subastas de carros chocados. Estos pueden tener algún desperfecto que tendrás que arreglar una vez comprado.
¿Qué hay que saber antes de pujar en subastas de autos?
Bueno aquí viene el gran paso. Tienes localizado el objeto a subastar en este caso un carro a buen precio de entrada. Pero espera antes de entrar a lo loco a por el carro que queremos hay que saber unas cuantas cosas a tener en cuenta en este tipo de subastas:
Comprobar que cargas y tasas tiene el carro.
Condiciones de la subasta entre las que se encuentran el precio, estado del carro.
Conocer que uso se le ha dado al auto.
Otros bienes que se pueden subastar en USA
Se han visto bienes muebles e inmuebles de todo tipo, no solo hay subastas de carros chocados, usados y pisos sino que también podemos encontrar:
Locales, naves y fincas.
Embarcaciones, camiones, motos y todo tipo de vehículos.
Animales, ropa, joyas.
Pisos, casas, áticos, entre otros.
Maquinaria, ordenadores, herramientas de obra.
Participaciones y acciones.
Chatarra y objetos variados.
Tipos de vehículos subastados
En las subastas tanto de copart como de otras empresas, podemos encontrar diferentes tipos de carros subastados:
Automóviles
Motocicletas
Camionetas
Autos clásicos
Camionetas y camiones
Exóticos
Remolques
SUVs
RVs
Cajas de camión
Equipo industrial
Vehículos híbridos
Botes
Motos de motocross
Y muchas más
¿De qué trata la web?
Básicamente es una página de subastas de carros que muestra los lugares en los que se compran y venden autos usados. Somos unos amantes de los autos y nos encanta todo lo relacionado con ellos, desde bien pequeños hemos podido disfrutar de las subastas y la compra-venta de carros. Por ello, decidimos crear la web para ayudar a aquellos que tuvieran o quisieran comprar uno, y tuviera más facilidades.
Ejemplo de subastas en USA
Dejamos un vídeo como ejemplo de las subastas en USA. Es interesante para todo aquel que quiera iniciarse en este mundo
https://www.youtube.com/watch?v=LxrlYOZ_KNY
Miembros certificados 100% seguros por la NAAA
La NAAA pone a disposición, anual y públicamente, todos los miembros certificados como 100% seguros para llevar a cabo los eventos de subastas de carros usados y nuevos. A continuación dejamos el listado de este año:
NAAA Headquarter Staff
ADESA Atlanta
ADESA Austin
ADESA Birmingham
ADESA Boise
ADESA Boston
ADESA Brasher's
ADESA Buffalo
ADESA Calgary
ADESA Charlotte
ADESA Chicago
ADESA Cincinnati/Dayton
ADESA Cleveland
ADESA Colorado Springs
ADESA Concord
ADESA Dallas
ADESA Des Moines
ADESA East Tennessee
ADESA Edmonton
ADESA Fargo
ADESA Flint
ADESA Fresno
ADESA Gold Gate
ADESA Hallifax
ADESA Houston
ADESA Indianapolis
ADESA Jacksonville
ADESA Kansas City
ADESA Kitchener
ADESA Knoxville
ADESA Lansing
ADESA Las Vegas
ADESA Lexington
ADESA Little Rock
ADESA Long Island
ADESA Vancouver
ADESA Los Angeles
ADESA Memphis
ADESA Mercer
ADESA Minneapolis
ADESA Moncton
ADESA Montreal
ADESA Nashville
ADESA New Jersey
ADESA Northwest
ADESA Ocala
ADESA Orlando
ADESA Ottawa
ADESA PA
ADESA Phoenix
ADESA Pittsburgh
ADESA Portland
ADESA Quebec City
ADESA Raleigh
ADESA Reno
ADESA Sacramento
ADESA Salt Lake
ADESA San Antonio
ADESA San Diego
ADESA San Jose
ADESA Sarasota
ADESA Saskatoon
ADESA Seattle
ADESA Shreveport
ADESA Sioux Falls
ADESA St. John's
ADESA St. Louis
ADESA Syracuse
ADESA Tampa
ADESA Toronto
ADESA Tulsa
ADESA Washington D.C.
ADESA Windsor
ADESA Winnipeg
ADESA Wisconsin
Akron Auto Auction
Alliance Auto Auction of Abilene
Alliance Auto Auction of Dallas
Alliance Auto Auction of Longview
Alliance Auto Auction of Waco
America's Auto Auction – Baton Rouge
America's Auto Auction – Harrisburg
America's Auto Auction-Tulsa
Automotive Resources International
Badger State Auto Auction
Bel Air Auto Auction
Central Auto Auction
Central Pennsylvania Auto Auction
Charleston Auto Auction
Clark County Auto Auction
Corry Auto Dealers Exchange
DAA Seattle
Dealers Auto Auction of Chattanooga
Dealers Auto Auction of Huntsville
Dealers Auto Auction of Las Vegas
Dealers Auto Auction of Mobile
Dealers Auto Auction of Memphis
Dealers Auto Auction of Murfreesbora
El Paso Independent Auto Auction
Grand Rapids Auto Auction
Greater Milwaukee Auto Auction
Greater Kalamazoo Auto Auction
Houston Auto Auction
KCI Kansas City
Lynnway Auto Auction
Manheim Albany
Manheim Arena Illinois
Manheim Arizona
Manheim Atlanta
Manheim Birmingham
Manheim Central Florida
Manheim Charlotte
Manheim Cincinnati
Manheim Cleveland
Manheim Dallas
Manheim Dallas-Fort Worth
Manheim Daytona Beach
Manheim Denver
Manheim El Paso
Manheim Flint
Manheim Fort Lauderdale
Manheim Fort Myers
Manheim Greer
Manheim Harrisonburg
Manheim Hawaii
Manheim Houston
Manheim Indianapolis
Manheim Jacksonville
Manheim Lafayette
Manheim Lakeland
Manheim Littlerock
Manheim Louisville
Manheim Metro Atlanta
Manheim Minneapolis
Manheim Nashville
Manheim Nevada
Manheim New England
Manheim New Jersey
Manheim New Mexico
Manheim New Orleans
Manheim North Carolina
Manheim Northstar Minnesota
Manheim Orlando
Manheim Palm Beach
Manheim Pensacola
Manheim Philadelphia
Manheim Phoenix
Manheim Pittsburgh
Manheim Portland
Manheim Riverside
Manheim San Antonio
Manheim San Diego
Manheim Seattle
Manheim St Pete
Manheim Statesville
Manheim Texas Hobby
Manheim Tucson
Manheim Tulsa
Manheim Wilmington
Memphis Auto Auction
Missouri Auto Auction
Music City Auto Auction of Nashville
North East Pennsylvania Auto Auction
Orlando Longwood Auto Auction
Southeastern Auto Auction of Savannah
Speedway Auto Auction of Charlotte
Tallahassee Auto Auction
Texas Lone Star Auto Auction Carrolton
Texas Lone Star Auto Auction Lubbock
Todos han sido extraídos de la web oficial de la NAAA.
[adinserter block=»3″]